ChineseMenu

ChineseMenu.com
In January 1st, 2010, a whole new upgraded global Chinese food catering web portal 'Chinesemenu.com' has been formally launched. As the largest website in Chinese food catering industry in the U.S., and the only site that combined restaurant information, menu displaying, online food ordering and customer reviews together, the new version of Chinesemenu.com has became a more powerful searching capabilities link page. With the launch of Chinesemenu.ca in Canada, Chinesemenu.com has improved to a more globalization site to cover wider area and provide better service to Chinese catering practitioners around the world. Chinesemenu.com will become the first communication platform and play a positive part on the development of international Chinese food catering industry.
Chinesemenu.com committed to provide comprehensive service to all Chinese restaurants and popularize Chinese cuisine to public. Chinesemenu.com act as the bridge that connecting Chinese restaurant to the customers, to ensure communication efficiency and making food ordering, information sharing and customer service more easier than ever. At the same time, Chinesemenu.com will help all Chinese restaurants around the world to understand the latest global trends and development status of Chinese food catering industry.
Once registered in the Chinesemenu.com, restaurant owners can publish the latest restaurant information including restaurant pictures, illustrated menus, and promotional activities on the website. They can also browse catering industry news and read customer feedbacks. In addition, the website will provide restaurant route maps and online food ordering service to customers. These convenient services will significantly enhance the competitiveness of the restaurants.
Customer Experience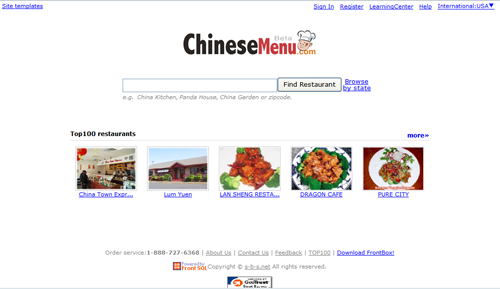 A new simplified front page has provided a powerful search function. Restaurant information can be found when users searching the phone number, name of the restaurant, address, zip code and key words etc. For just one click of your mouse, you can get your favorite dishes from any restaurant nearby.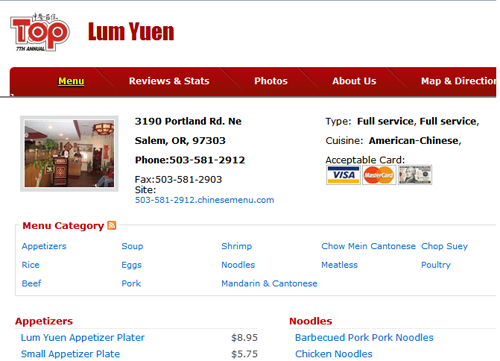 Chinesemenu.com contains more than 45,000 restaurants in the U.S. People can browse restaurant information (such as address, phone number, etc.), restaurant pictures and videos or route maps of the restaurant. At the same time more comprehensive online service allows customers browsing the menu, ordering online, add comments, and print menus. Chinesemenu.com committed to provide you with a full range of catering services and become your Chinese food advisor.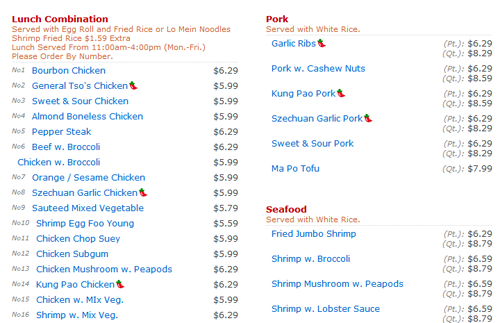 Advanced customer personal account management, where you can view your favorite restaurant, check your ordering records, and modify personal information.
Restaurant owner experience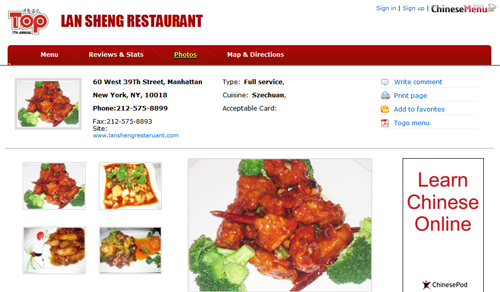 Comprehensive menu display, to encompass all of your menu information and 24/7 online restaurant information update function to maximize your publicity of the restaurant. Independent restaurant interface allows you to interact with your customer anytime, anywhere and get their most pertinent comments.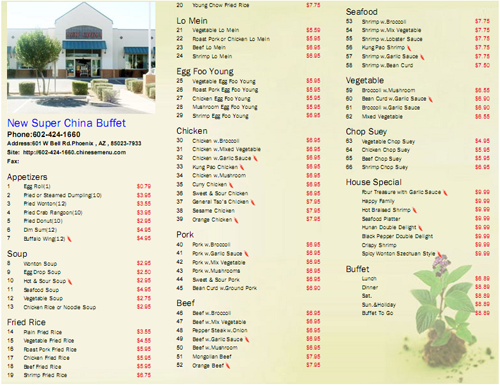 Customers can download and print takeout menu in PDF format. This takeout menu will never run out and always show the best image of your restaurant to the customers.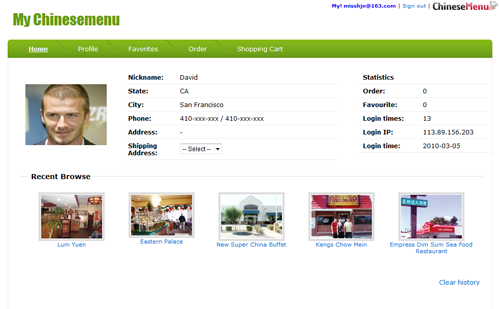 Check orders online and update restaurant information have never been so easy for restaurant owners to use our powerful backstage management system.